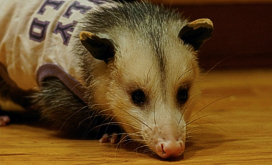 All Possums Go To Heaven
Possums are the most innocent of little creatures, whose involvement with humans has almost always made them the losers. They don't expect anything from us. They don't look to us for any favors. They are not a "pet" bred to behave a certain way so that their human benefactors will respond with food and lodging. So when you first experience love from a creature that hasn't been manufactured to do so, there is an innocence and honesty attached to it unlike no love you will ever receive elsewhere. A purity that almost certainly guarantees their place in Heaven.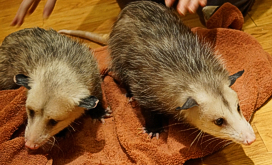 Morgan and Neville
Morgan has dedicated the past few years of her life to rescuing, raising, and understanding possums on a level founded with love and respect for these little creatures. They have shared her bed, shared her food, and shared her life in a way no other creature could replicate. As her Dad, I have stood in admiration of the unselfish giving that she has shown throughout the journey and her unconditional love that gives full proof to the size of her heart. All the little furry winged characters in these images were lovingly created by her as replicas of the babies and gifted to me as a very special keepsake.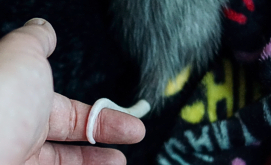 A Place of Rescue
By the time we built our little sanctuary, we had developed a decent knowledge of their needs and habits but we continue to learn as we gain more and more experience of them in an outdoors (but protected environment). The sanctuary can hold eight or ten opossums at a time, but we will probably take a little break in habitation while we allow our hearts to heal a little from the loss of our little babies.